CAROLINE, OR CHANGE
May - July 2006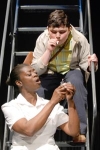 (c) Scott Suchman.
Trisha played "Emmie Thibodeaux," daughter of the titular character in Caroline, or Change at The Studio Theatre. The Studio Theatre, located at 1501 14th St. NW on the corner of 14th and P Streets NW, is in the heart of Washington, DC. Opening on May 17, the production was extended twice before closing on July 23, 2006.
Click
here
to open a new page full of
Caroline, or Change
reviews.
For her portrayal of "Emmie," Trisha has received a Helen Hayes Award
Nomination. For more information about her nomination, please go
here
.
TRISHA JEFFREY IN LEE SUMMERS' "JUST A PIANO"
October 2, 2006 at 7pm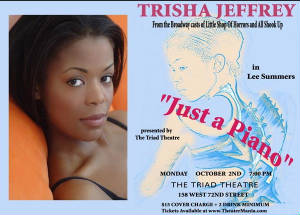 Trisha in her first solo show!
Based on the premise "If you can't do it with just a piano, you probably can't do it," Trisha sang in her first solo
cabaret act for one night only on Monday, October 2nd!
Held at
The Triad Theatre
at 158 W. 72nd St. (between Broadway and Columbus Ave on the second floor), Trisha
brought the house down with great songs from Little Shop
of Horrors and Caroline, or Change, as well as "Fame,"
"Don't Rain on My Parade," "Defying Gravity" and more.
HAROLD WOHLFART'S PALAZZO
Early November 2006 - Early February 2007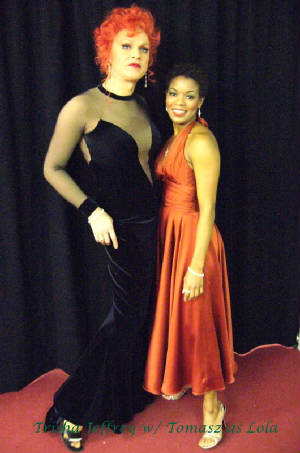 (c) Harold Wohlfart's Palazzo
Trisha Jeffrey featured
in Harold Wohlfart's Palazzo
A palazzo "is a big rage in Europe where they provide exquisite dining and entertainment." It reminds Trisha of "dinner theatre and a circus all in one."
Trisha performed as the featured singer in the show, singing about six numbers a night. She performed alongside a variety of talents, ranging from comedians to trapeze artists! On Halloween 2006, she flew all the way to Stuttgart, Germany. She then performed in the show beginning in early November 2006 until early February 2007.
To view pictures
of Trisha in the Palazzo, click
here
and a new page of the web site will open.
For more information on Harold Wohlfart's Palazzo, visit its website at
www.palazzo.org
and click on 'Stuttgart' at the bottom of the page! [
Note:
the website is in German.]