Macbeth Opening at New Lafayette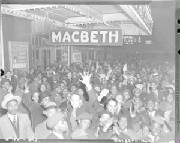 April 1936. Credit: Federal Theatre Project Collection.
During the Great Depression, the Works Progress Administration through the Federal Theatre Project's Negro Unit provided financial support to produce plays, providing work for many unemployed actors. In the fall of 1935, John Houseman became the head of the Federal Theatre Project's Negro Unit in New York, despite the desires of others to have an African-American leader instead of Houseman, who was Caucasian. However, he had successfully directed an all-black cast of the Virgil Thomson-Gertrude Stein opera Four Saints in Three Acts. He decided that part of the Negro Unit would perform classicals "without concession or reference to color."
Houseman wanted the young Orson Welles to direct the unit's first classical production. The project became the legendary Welles's directorial debut. His wife suggested Macbeth, set in 19th-century Haiti. Welles then revamped much of the Shakespearean play. An all-black cast was hired, and the production went ahead, stirring with much controversy.
Macbeth opened at The New Lafayette Theatre in Harlem on April 14, 1936. It was a huge success, running for 10 sold-out weeks until June 20 when it moved downtown to the Adelphi Theatre and then toured the country. Many other units were then inspired to also perform classics... just as, 63 years later, the Classical Theatre of Harlem was.
Sources and links for more information:
An extensive article reprinted online from the January-February 1996 issue of Civilization magazine.
This great site is run by The New Deal Stage, an offshoot of the Library of Congress. It has pictures from the original production of: the production notebook, rehearsal/casting notes, photographs, costume/set designs, the playbill, and music.